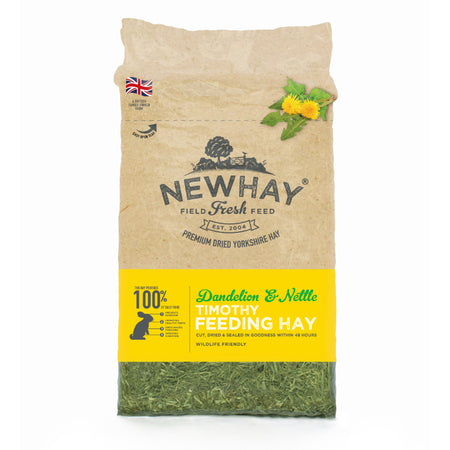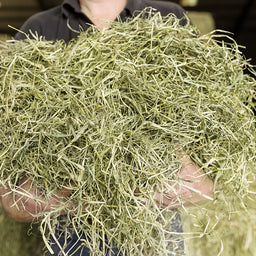 1kg Timothy Hay with Dandelion & Nettle Bale
Premium quality, nutritious and tasty Timothy Hay bales with added dandelions and nettles. Buy Timothy Hay for rabbits, guinea pigs and other small pets.
Read More
Description
Available in 1kg bales and packed with natural goodness, all our hay is carefully sown and grown on our Yorkshire farm. Specially dried to retain all the qualities of fresh green hay which helps aid your pet's digestion and provides a tasty treat. And Dandelion and Nettle added to keep things interesting, naturally!
Why is Newhay Timothy Hay so good?
It provides 100% of the daily fibre your small pet needs, and a host of other healthy benefits:

Reduces boredom
Healthier teeth
Aids digestion
Low in sugar
Natural vitamin C
Low impurities (bacteria & spores)
Shipping & Returns
Orders will be delivered within 3-5 working days.
We partner with Hermes who will deliver your order. You will receive an update via email as soon as your order is dispatched which will include your tracking number. If you wish to track your order please click here and enter your tracking number.
Read more about delivery
Please note that any orders placed on a weekend or Bank Holiday will be processed on the next working day.
If you have any questions please contact sales@newhay.co.uk quoting your order number and we will be happy to assist you.
Customer Reviews